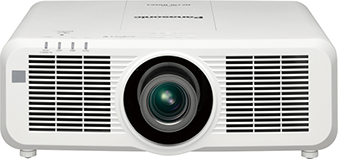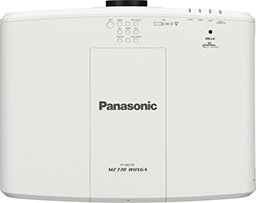 The PT-MZ770 Series features newly released 8,000-lumen high-brightness projector models that enable clear and vivid large-screen projection in bright environments. The MZ770 Series combines Panasonic's time-proven LCD with industry-leading SOLID SHINE Laser light-source technology to achieve consistent high-quality pictures and extremely stable performance. Flexible installation in corporate or educational facilities is complemented by an efficient Eco Filter, which helps to extend maintenance to about 20,000 hours*1.
SOLID SHINE Laser phosphor drive with advanced 3LCD optical engine projects bright, vivid, and detailed pictures even in rooms with high levels of artificial light. Text is reproduced clearly and legibly, while graphics and video retain excellent color saturation and high contrast.
Proprietary circuitry analyzes individual video frames to clarify areas of each image containing fine details. Algorithms pull information from four frequency bands of the signal, sharpening outlines, correcting contours, and reducing ringing noise for a vastly superior picture.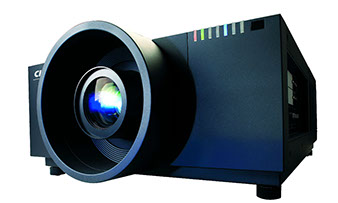 Christie's latest digital projector provides high brightness at 9000 ANSI lumens and a 2000:1 contrast ratio from a dual lamp, optical engine. The Christie LX900 boasts high performance, low maintenance and an overall low cost of ownership.
The Christie LX900 features inorganic LCD technology that provides a long life optical engine designed for exceptional image performance without compromise. Enhanced by 10-bit video processing, the Christie LX900 produces natural, color tone reproduction, picture stability (without image noise) and flawless video playback.
Dual lamps deliver the same incredible brightness as the competition achieves with four lamps, with less maintenance and lower cost of operation. Auto-switching lamps in single-lamp mode allows for redundancy in critical operations as well as ease of use by providing intuitive technology for continued operation.
Service intervals are extended using a new AutoFilter air filtration system. This easy-to-use cartridge system automatically rotates a new sheet of filter for up to 10,000 hours (in typical conditions) before requiring replacement.
With a suite of optional high performance lenses and a range of input modules, you can match the capabilities of the LX900 to the signals you require – including HD-SDI sources. The Christie LX900 is flexible enough for virtually any installation including large conference rooms, medium-size auditoriums and staging applications. With stacking capability, you can easily increase brightness by combining two units.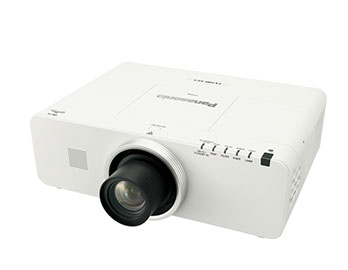 Lens center layout (symmetry)- A symmetrical design with the lens in the center of the projector has been adopted to suit ceiling installation in particular. This allows the projector and the screen to be centered together, which not only makes design and installation much easier, but also offers a sense of greater stability through symmetry of the positioning between projector and screen.
Power Vertical / Horizontal Lens Shift - All models are equipped with a Powered Vertical/Horizontal Lens Shift function and an Electrical Zoom/Focus function that lets you adjust the projection position without having to move the projector. The powered function makes it easy to achieve fine positioning adjustments, using the remote control, even for projectors installed in high places.
Powered zoom and focus - Zoom and focus can be carried out electronically, so that adjustments can be made easily (smoothly). Of course operations can also be carried out using the remote control, so that adjustments can be carried out easily from a distance even after the projector has been installed in a high location
Corner Keystone Correction - The Corner Keystone function corrects trapezoidal distortion. To square the image, simply designate the four corners with the remote control or projector buttons. The corrected data is stored in memory, so rectangular screens can be displayed with permanently installed projectors at lecture hall and conference room.
Tilted Installation Possible (360 Tilt Angle)- The projector can be installed at a 360 tilt angle in the vertical direction. This makes it possible to project images facing directly above or below the projector.
Interchangeable Lenses (Optional)- To enable projection in various locations, the lens lineup extends from short to long focus lenses. No additional tools are necessary for changing lenses. Simply press the button and screw in the interchangeable lens.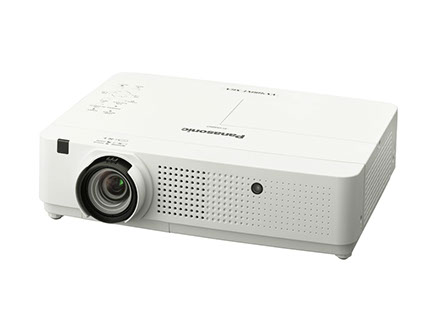 The Panasonic PT-VX400 projector provides mobility, 4,000 lumens of brightness in a compact form-factor and can be moved from one room to another or installed from a ceiling.
Equipped with a lamp that has a 5,000-hour replacement cycle and an original 3–layer air filter with a 6,000-hour filter replacement cycle, labor and expense typically attributed to periodic maintenance is greatly reduced.
With a 1.6x zoom lens and auto keystone feature, installation, setup and operation is easy.This lightweight projector is portable and eco-friendly with a low 0.48W standby power consumption rating. The PT-VX400 projector also includes a wide array of features including a 10-watt speaker and microphone input for audio playback directly from the projector, a built-in closed caption decoder and a carrying bag with a handy shoulder strap.
Users can expect superb performance, quiet operation and with intelligent lamp control, minimal environmental impact. Dependable and portable projectors, this series is ideal for use in corporate conference rooms, training rooms, classrooms and more.
This is only a small range of the projectors we have available. Please contact to discuss your exact requirements with our fully trained staff.