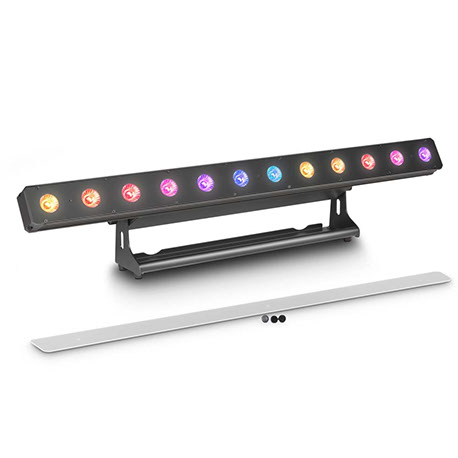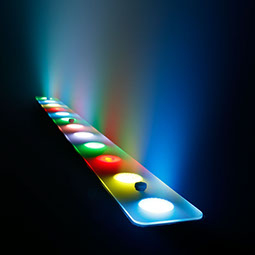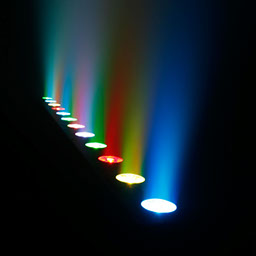 12 x 12 W RGBWA + UV LED Bar
12 ultra-bright 12 W RGBWA+UV LEDs
Single Pixel Control for effective Chase effects
Silent operation thanks to convection cooling
Flicker-free
Professional 3- and 5-pin DMX sockets and Neutrik powerCon mains connector
Fully RDM-enabled
7 DMX modes plus operation as a standalone, master or slave
Diffusing lens for uniform, glare-free light
4 adjustable dimmer curves
Colour temperature correction
3 preset shades of white: warm white, cool white, white
Sturdy aluminium housing
The Cameo PixBar 600 PRO is a wide-angle, convection-cooled LED bar for professional use, equipped with 12 super-bright 12 Watt RGBWA+UV LEDs. It operates absolutely noiselessly and is flicker-free due to its high refresh rate of 3,000 Hz.
In addition to the almost unlimited range of colours that can be varied in temperature as well as the macros that are aligned with LEE filters, the PixBar offers 3 shades of white and 4 selectable dimmer curves. With the Single Pixel Control, all LEDs can also be individually adjusted to achieve impressive Chase effects.
The fully RDM-enabled PixBar 600 PRO can communicate bidirectionally with RDM-controllers, to provide the address, status, and all parameters of the device. Naturally, the light bar can also be controlled via the standard DMX protocol in 7 control modes or used as a standalone, master and slave; it features 14 automatic modes and a built-in microphone for sound control. A backlit display and 4 buttons are used for manual operation.
The aluminium housing of the Cameo PixBar 600 PRO is equipped with both 3- and 5-pin input and output sockets for the DMX-signal, as well as with Neutrik Powercon mains connectors. The light bar can be used with all mains voltages from 110 to 240 volts and comes with a mounting bracket and a frost filter to provide a uniform, glare-free light.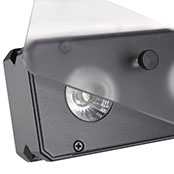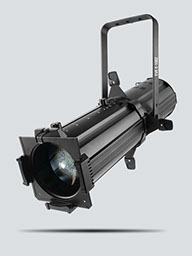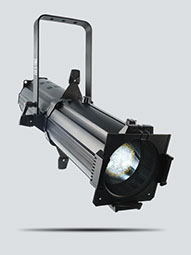 EVE E-100Z is a powerful spot fixture featuring sharp pattern projection with a 100 W warm white LED light source. It's designed for mobile and installation applications. This versatile fixture works with metal or glass gobos to create incredible gobo or pattern details. The manual zoom and framing shutters make it simple to control beams.
LED Ellipsoidal shines a hard-edged, warm white spot in any direction
Easily highlight areas by altering the projected beam with framing shutters
Flexibility to project from any distance using the manual zoom
Flicker-free operation suitable for on-camera use
Includes holders for glass and steel gobos and a gel frame
Save time running extension cords by power linking multiple units
Eliminate the need for DMX control with standalone operation
Showtec Eventspot Battery Wireless DMX Up Lighters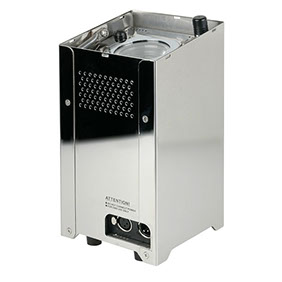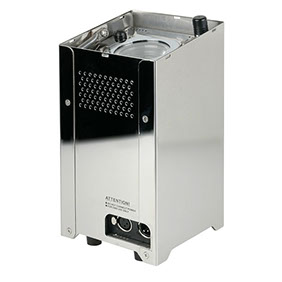 Battery operated
Wireless DMX
12 hours operating time without recharging
1900 Lux @ 2m
Built in programms
Integrated carrying handleThe Eventspot 1900MKII is an updated model of the Eventspot 1900 with an improved antenna and charge system. The new antenna is placed on top of the fixture and is very small and strong. The improved charger connection has been repositioned to the centre of the bottom. This makes it possible to place the fixture in any position in the flightcase, it will always connect with the charger.
The Eventspot 1900MKII is equipped perfectly for temporary entertainment and architectural applications. Its power battery and efficient design allows for more than 12 hours of constant use in RGB operation. Due to the built-in wireless DMX receiver it gives you the freedom to give light and color to your event fast and easy without need of any cable. The adjustable feet give you the possibility to put the spot in any angle.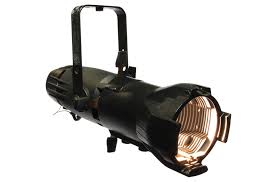 The smaller-scale Source Four jr uses the same technology that made the standard Source Four famous. That means unsurpassed imaging and beam quality. Compared to many conventional 650W and 1000W ellipsoidal spotlights, Source Four jr's 575 watts still delivers an even brighter light and offers the flexibility of multiple HPL lamp options and interchangeble lenses. The Source Four jr is perfect for - but never limited to - smaller theatre venues, churches, schools, industrials, and any other application where affordability, space-savings and great performance are the criteria.
26º, 36º, and 50º fixed-field angles
Rated up to 575W
Super-efficient HPL lamp
Interchangeable lens assemblies
Faceted dichroic reflector removes 90% of IR heat from beam
Two-plane stainless-steel shutter blade assembly
Tool-free lamp adjustment
Rugged die-cast aluminum construction
Accepts M-size gobos and drop-in iris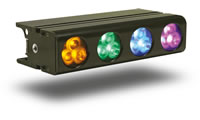 Following the enormous success of the Chroma-Q® Color Block™ LED fixture with rental companies and end users alike, we have combined the product's core elements of modularity and versatility with new single colour RGBA optics, 530 lumens output (almost double the original model) and theatrical grade dimming to create the exceptional feature set of the Color Block 2™ fixture.
CRI of 90 - for tungsten emulation
Enhanced colour range - create subtle theatrical hues
Single colour diffused optics - virtually eliminate multicoloured shadows & offer camera friendly output
Exceptional colour brightness & light output levels
Advanced beam spreading technology - even colour mix across the beam
Modular construction with range of fixing accessories - easily configured as a wide variety of shapes
Cameo Studio PAR 64 CAN - 18 x 8W QUAD Colour LED PAR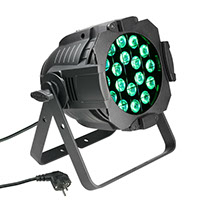 Extremely high-powered LED studio PAR in a black, short housing. Ruggedly made housing in studio look with built-in filter frame holder. The Cameo CLPST64Q8W has a total of 18 quad LEDs (RGBW), thus guaranteeing perfect mixing of solid and pastel colours - including white. With a power consumption of just 170 watts, the 8-watt quad LEDs produce an impressive level of brightness with a beam angle of 25 degrees.
It is operated using four buttons and an LED display on the back.
The CLPST64Q8W is equipped with a super-quiet fan for cooling. The dual bracket permits simple use as a floor PAR.
There are three operating modes. In addition to DMX operation with 2, 3, 4 or 7 channels, this LED PAR can also be operated in standalone mode or via sound control.
Type: Studio PAR 64
Colour spectrum: RGBW
Number of LEDs: 18
LED type: 8 W QUAD colour
Refresh rate: 5000 Hz
Beam angle: 25°
DMX input: XLR 3-pin male
DMX output: XLR 3-pin male
DMX mode: 2-channel, 3-channel, 4-channel, 7-channel
DMX Functions: Colour fade, colour jump, master dimmer, RGBW, sound control, strobe
Standalone modes: Colour jump, colour fade, slave mode, sound control, static colour